Donate
Make an Impact
We invite you to celebrate the spirit and resiliency of The Roxie by joining our Forever Roxie campaign. For over one hundred years we've kept independent cinema an integral part of our little corner of the Mission District, and with your help we'll keep it going for over a hundred more. No matter the size of your donation, you will have an impact!
We have big plans for the future, and so we invite you all to join our Forever Roxie campaign and be a part of our continuing story.
All Forever Roxie donations go directly toward our day-to-day operations and programming. With a building as old as ours (over a hundred years and counting!), there's no end to the places your gift could have a tremendous impact. Beyond that, you help ensure our programming stays dynamic and reflects the beautiful diversity of San Francisco. Your donation supports a lot!
A San Francisco Legacy Business
Proudly independent cinema in the Bay Area
Local filmmakers and artists
The craft of celluloid projection
Films you won't see anywhere else
Making sure culture stays accessible and affordable for everyone
Keeping The Roxie an anchor in our community
Support the Roxie
Building community. Igniting passion. Preserving history. We serve as a hub for thought-provoking foreign, independent, and arthouse cinema, as well as an important host venue for specialty film festivals. It doesn't end there, though—your support of our mission helps us cement our ability to uplift our community for years to come.
By becoming a donor today, you ensure our ability to continue sharing bold cinema with the Bay Area. Gifts are tax-deductible and can be made in several ways.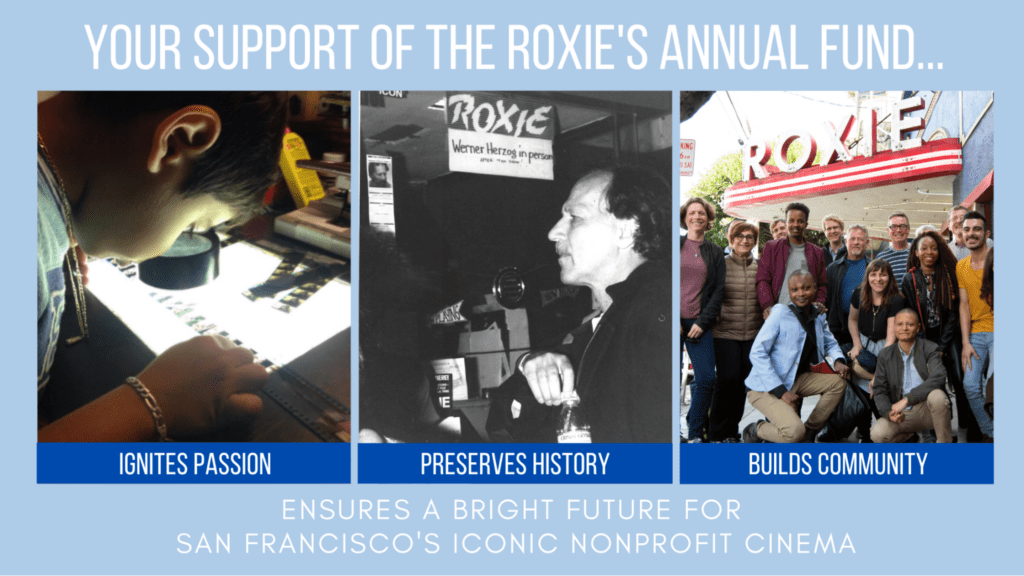 Corporate Matching
Many companies will double (or even triple) your donations.
Donate Your Time
We are so thankful for your support. Any donation, big or small, helps us advance our mission and keeps our little arthouse thriving. Fill out this form and we'll let you know if we've got a project that would be right for you.
By Mail
Roxie Theater, Attn: Giving
3125 16th Street
San Francisco, CA 94103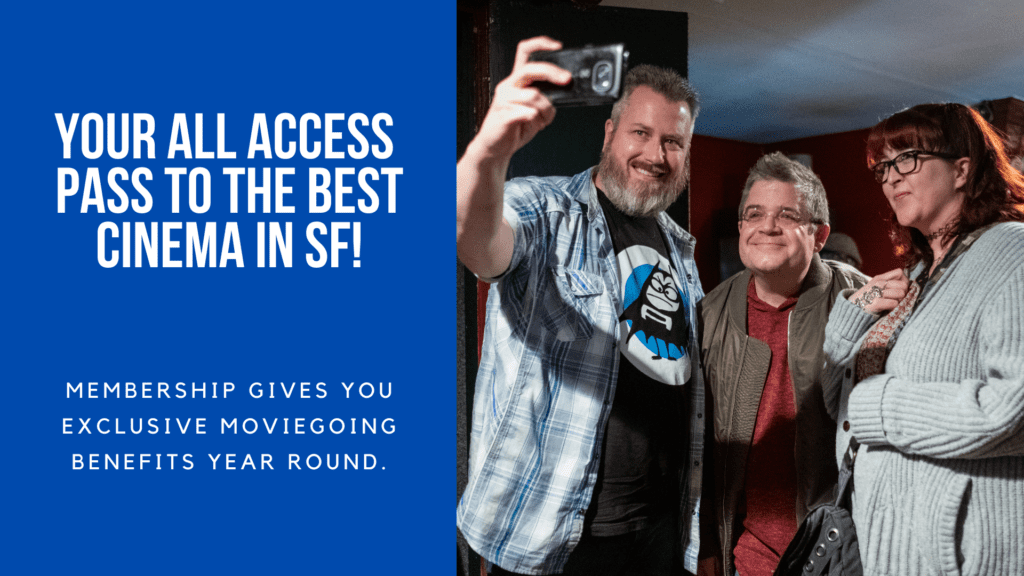 Join Our Community
Roxie Membership is the club anyone can join! A membership is one of the best ways to support independent cinema in San Francisco. Whether you're a student discovering the world of film or a veteran moviegoer, there's a level that's right for you. Sign up today – the movies await!
Questions? Contact giving@roxie.com
The Roxie is a registered 501c3 non-profit. Our EIN is 26-2408760.
FOREVER ROXIE FAQ
Forever Roxie is our Annual Fund Campaign. What does that mean, and why do you ask me to make a gift every year?
Forever Roxie is our annual giving program. It helps provide unrestricted support to our nonprofit organization, specifically our day-to-day operations as well as a variety of programs, including educational screenings, support to local filmmakers, job training, and serving as a host for community partners.
So, Forever Roxie will occur year after year, and I'll always be asked to make a gift?
Yes. What you and other patrons accomplish with your gift to The Roxie is the ongoing support of our organization and local film community for years to come.
The donation goal seems to change every year. Why is that?
Annual operating costs at The Roxie increase just like food, healthcare, and gasoline prices. As a result, so does our annual goal.
How much should I give?
Every gift is important, and whatever level at which it makes sense for you to donate helps support our goal! Whether your gift is $50, $500, $5,000 or $50,000, the most important consideration is that you choose to make a difference for The Roxie.
Does The Roxie accept corporate matches?
Yes, we do! Many employers throughout the Bay Area provide a matching donation, allowing you to double your donation to The Roxie. Ten minutes of your time can mean twice the donation for us! To see if your company offers gift matching, please click here.
What more do I need to know?
We are so thankful for your support! Any donation, big or small, helps us advance our mission and keeps our little arthouse thriving.